Bearing the bold signature of lauded architectural practice Bjarke Ingels Group (BIG), CanningHill Piers rises proudly above Clarke Quay and Fort Canning MRT. And as part of a transformative integrated precinct housing an inspired mix of F&B, retail, hotel and serviced residence too — truly, the very best of life is yours for the taking.
Where the river flows, there is always life. The story of the Singapore River is as colourful as the technicolour lights that reflect on its shimmering water surface. Today, the Singapore River bustles with the cosmopolitan lifestyle of a modern metropolitan city. Buzzing bars, pubs and clubs are favourite stomping grounds for those in search for an unforgettable night. Flavours from all around the world tempt food lovers at every turn of the corner, thanks to a global dining riverside scene.
Canninghill Piers
development info
| | |
| --- | --- |
| Project : | Canninghill Piers |
| Address : | 1-5 Clarke Quay, Singapore |
| Type : | Integrated Development |
| # of Units : | 696 units |
| Tenure : | Leasehold 99yrs |
| Eligibility : | All Nationalities |
| T.O.P Date : | est 2H 2025 |
| Site Area : | approx 139,128 sqft |
| Developer : | Capitaland & CDL |
| Architect : | Bjarke Ingels Group | DP Architects |
| Unit Mix : | 1br / 1+s / 2br / 3br / 4br / PH |
Canninghill Piers
in and around
Canninghill Piers
image gallery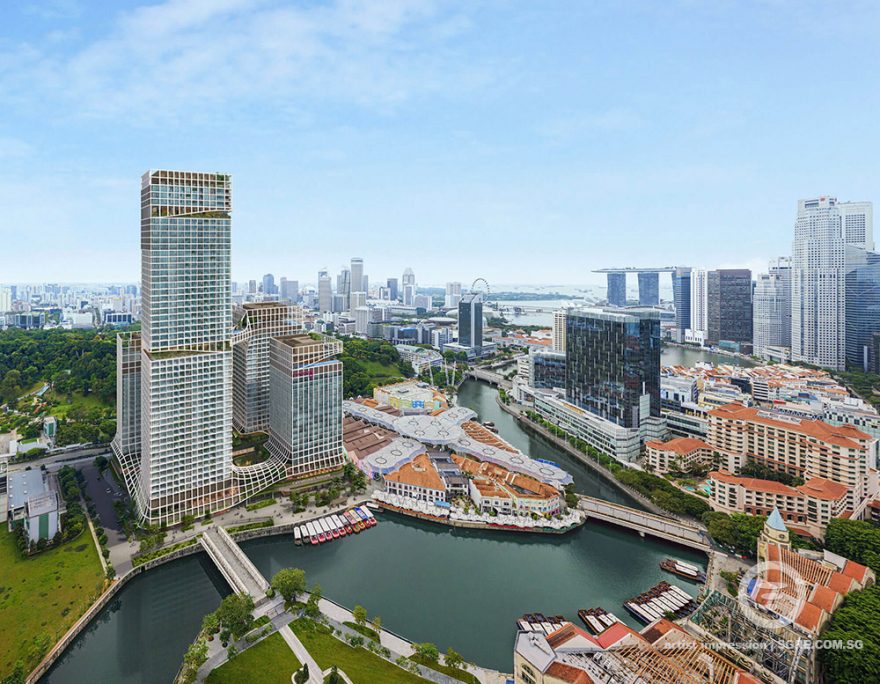 Canninghill Piers
the team
Joint Developer for Canninghill Piers
Capitaland Limited

CapitaLand is one of Asia's largest diversified real estate groups.  Headquartered and listed in Singapore, it owns and manages a global portfolio worth over S$103 billion1 as at 31 March 2019.  CapitaLand's portfolio spans across diversified real estate classes which includes commercial, retail; business park, industrial and logistics; integrated development, urban development; as well as lodging and residential.  With a presence across more than 200 cities in over 30 countries, the Group focuses on Singapore and China as its core markets, while it continues to expand in markets such as India, Vietnam, Australia, Europe and the USA.
CapitaLand has one of the largest real estate investment management businesses globally.  It manages eight listed real estate investment trusts (REITs) and business trusts as well as over 20 private funds.  Since it pioneered REITs in Singapore with the listing of CapitaLand Mall Trust in 2002, CapitaLand's REITs and business trusts have expanded to include Ascendas Reit, CapitaLand Commercial Trust, Ascott Residence Trust, CapitaLand Retail China Trust, Ascendas India Trust, CapitaLand Malaysia Mall Trust and Ascendas Hospitality Trust.
CapitaLand's assets under management is over S$123 billion with the completion of its acquisition of Ascendas-Singbridge by end June 2019.
Our vision: To be a leading global enterprise that enriches people and communities through high-quality real estate products and services.
Joint Developer for Canninghill Piers
City Developments Limited

City Developments Limited (CDL) is a leading global real estate operating company with a network spanning 103 locations in 29 countries and regions. Listed on the Singapore Exchange, the Group is one of the largest companies by market capitalisation. Its income-stable and geographically-diverse portfolio comprises residences, offices, hotels, serviced apartments, integrated developments and shopping malls.
With a proven track record of over 55 years in real estate development, investment and management, CDL has developed over 43,000 homes and owns over 18 million square feet of lettable floor area globally. Its diversified global land bank offers 4.1 million square feet of developable gross floor area.
The Group's London-listed subsidiary, Millennium & Copthorne Hotels plc (M&C), is one of the world's largest hotel chains, with over 135 hotels worldwide, many in key gateway cities.
Leveraging its deep expertise in developing and managing a diversified asset base, the Group is focused on enhancing the performance of its portfolio and strengthening its recurring income streams to deliver long-term sustainable value to shareholders. The Group is also developing a fund management business and targets to achieve US$5 billion in Assets Under Management (AUM) by 2023.
Overview

The Founding of CDL
CDL began in a small, rented office in Amber Mansions on 7 September 1963, staffed by only eight employees, to acquire, develop and sell property. The Company went public in November 1963 and its shares were listed on what was known then as the Malayan Stock Exchange.
The Early Years
In 1965, CDL completed its first housing project, Fresh Breezes in Johor Bahru, and pioneered the "show flat" concept. This was followed by the launch of its first high-rise residential development in Singapore, City Towers, as well as the completion of Phase One of Clementi Park, CDL's first full condominium concept project, in 1966.
A New Beginning
In 1972, the Hong Leong Group, under the guidance and leadership of founder, the late Mr Kwek Hong Png, acquired a controlling interest in CDL and embarked on a strategic diversification into investment properties. CDL placed its diversification strategy into effect with the acquisition of Guan Realty (Private) Limited in 1972. This newly acquired subsidiary subsequently developed City Plaza, CDL's first mixed use Development which was completed in 1980.
Singapore Property Pioneer
With the late Mr Kwek's aspiration and strong business acumen, CDL emerged as a major property developer in Singapore. In the 1980s, CDL launched 21 residential properties and completed 12 investment properties including City House in the heart of the Central Business District, which became CDL's headquarters.
Hotel Acquisition
CDL made its maiden foray into the hospitality industry with the development of King's Hotel (now Copthorne King's Hotel Singapore). Orchid Inn (now redeveloped into a residential project – The Glyndebourne) was also bought about this time. This was followed by rapid expansion and regionalisation.
Today, CDL's hospitality arm, Millennium & Copthorne Hotels plc (M&C) is Singapore's largest international hotel group and one of the largest hotel owners and operators in the world.
50 Years of Distinction
With over five decades of track record, CDL has built a distinctive legacy of industry leadership and championing green buildings, fueled by our vision to conserve as we construct. We look forward to achieving new milestones as we continue to transform the eco-landscape as well as to set benchmarks in innovation and sustainable developments. And to press on for our biggest reward – a better home for everyone to live in.
Architect for Canninghill Piers
Bjarke Ingels Group (BIG)
BIG is a Copenhagen, New York, London and Barcelona based group of architects, designers, urbanists, landscape professionals, interior and product designers, researchers and inventors. The office is currently involved in a large number of projects throughout Europe, North America, Asia and the Middle East.
BIG's architecture emerges out of a careful analysis of how contemporary life constantly evolves and changes. Not least due to the influence from multicultural exchange, global economical flows and communication technologies, that all together require new ways of architectural and urban organization.
We believe that in order to deal with today's challenges, architecture can profitably move into a field that has been largely unexplored. A pragmatic utopian architecture that steers clear of the petrifying pragmatism of boring boxes and the naïve utopian ideas of digital formalism.
Like a form of programmatic alchemy, we create architecture by mixing conventional ingredients such as living, leisure, working, parking and shopping. By hitting the fertile overlap between pragmatic and utopia, we architects once again find the freedom to change the surface of our planet, to better fit contemporary life forms.


DP Architects
DP Architects practices as a multidisciplinary design group, One Global Studio, with 900 staff, 16 strategically linked international offices from Shanghai to London, 8 associated specialist companies, with a reach of 77 countries around the world.
As the practice of architecture becomes broader and more encompassing, DP recognises the potential of specialisation in our pursuit of a holistic design solution. DP provides a suite of integrated design services through our specialist consultancies.
Our design work benefits from the close collaboration and synergy among the various disciplines to strengthen our delivery of fully coordinated, context-appropriate and innovative design solutions. Our headquarters in Singapore houses the specialist companies and 10 typology research teams that perform as a consolidated resource for our designers around the world. With diversified talents and extensive specialist knowledge, our interdisciplinary approach is driven by a common design belief and methodology.
Founded in 1967 on a deep concern for the built environment and the need to create architecture of excellence that enriches the human experience and spirit, DP continues to play a role in shaping cityscapes in Singapore, Asia, the Middle East and beyond. Driven by a strong philosophy devoted to human activity and civic quality of the city, our designers approach each project as the continuation of an ongoing exploration in shaping the public domain.  
In our pursuit to improve the lives of people in cities, DP explores design techniques that inject new vitality into the city's fabric. Our projects serve as regional focal points, hubs of human activity and social space.
Canninghill Piers
location